During our last PWA Builder release, we recently announced a new feature to generate from your PWA a signed APK. It's fully generated from the cloud, no need to install anything on your machine such as Android Studio and it's ready to be published directly to the Play Store!
Let me show how easy it is. In a couple of minutes, you will be able to submit your PWA to the Google Play Store.
But before that, first question you may ask: why would I publish my PWA in a Store? Isn't the beauty of PWAs to potentially replace native applications from apps stores by being installed directly from the browser? Yes, indeed! But as an app developer, you should try to reach all possible users, wherever they are and go.
Users often search for a specific application through the store of their device. Publishing a PWA in apps' stores, either in the Microsoft Store, the Samsung Galaxy Store or the Play Store, offers the following advantages: discoverability, trustworthiness, easy install and business insights as you will be able to get some analytics from the stores dashboards. View it as another way to distribute your PWA. Your users will be able to find your app directly from a browser via a link, from a search engine or from the apps stores! You will target all those channels with a unique code base and unique hosting of your PWA.
Before jumping into the steps of generating your package for the Play Store, let me first explain you what a Trusted Web Activities (TWA) is. What the heck?!? Yet, another acronym! Don't panic, the concept is simple. It's a way to publish your PWA as an APK to the Play Store. Once you'll click the "Install" button from the store, you will have an identical behavior as if you would have installed your PWA directly from the browser. In order to prove you're the owner of the PWA / website published in the Play Store, you must create a digital asset link associated to the submitted APK at the root of your website, under a specific folder. You can read more about this: Using Trusted Web Activities. PWA Builder is going to simplify a lot this process!
On my side, I've followed those steps to publish my small PWA game Apples Crusher into the Play Store. Don't hesitate to install it on your Android phone to check how this works. By the way, I've already blogged about how I've made this game: Using WebGL and PWA to build an adaptive game for touch, mouse and VR devices. But any PWA will work.
Step 1: submit your PWA URL to PWA Builder
Navigate to https://www.pwabuilder.com, enter the URL of your PWA and click "Start":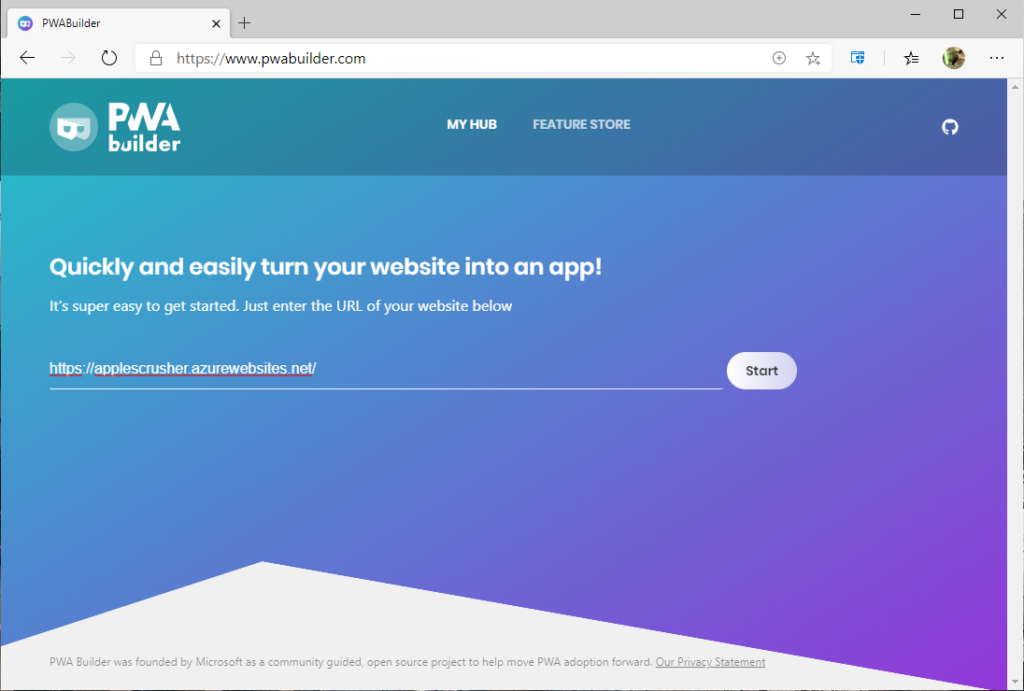 We will then analyze your PWA and suggest possible enhancement if needed for your manifest or service worker.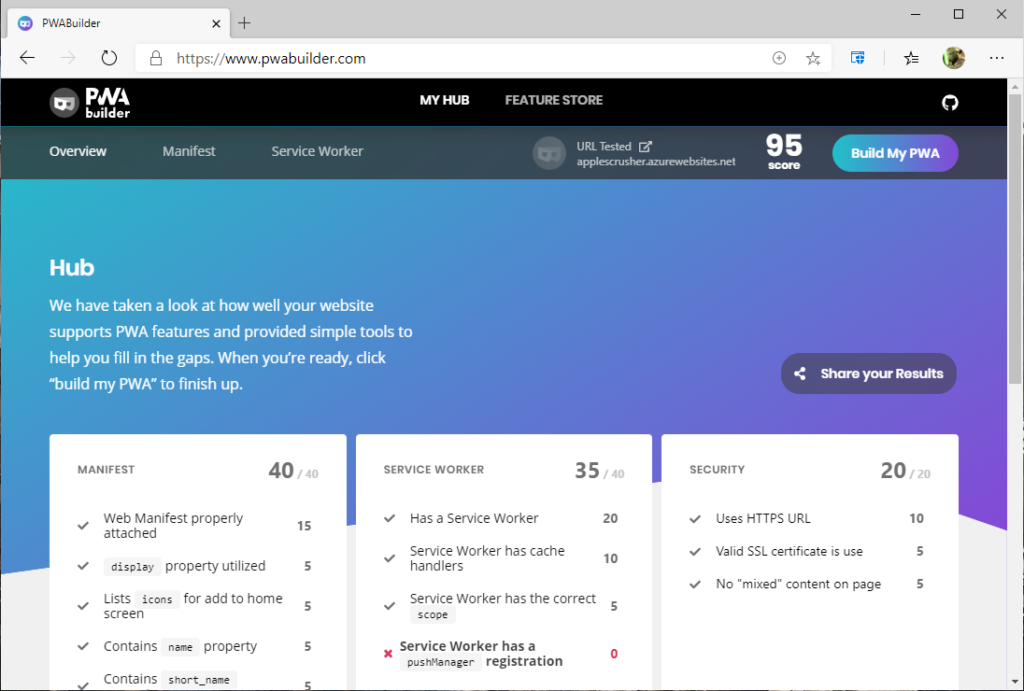 If your score is already high enough, you can click on "Build My PWA".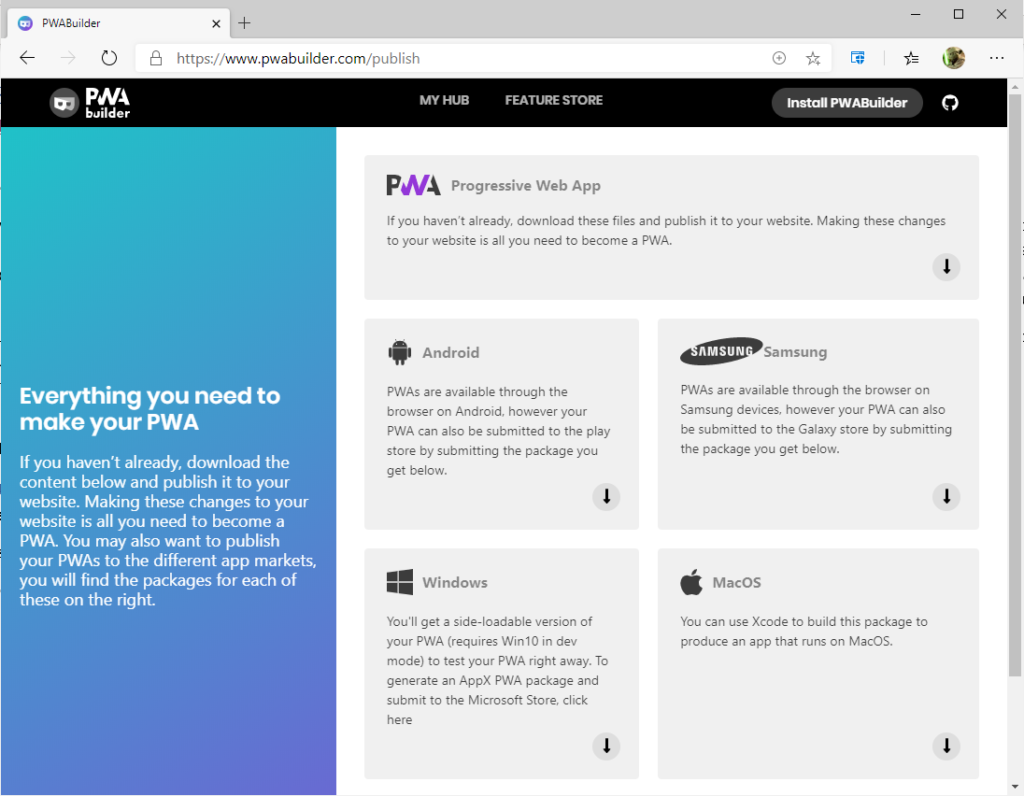 Then choose the Android platform and click "Download". It will start the building process of our signed APK on our servers and once done, you'll be able to explore the downloaded ZIP archive.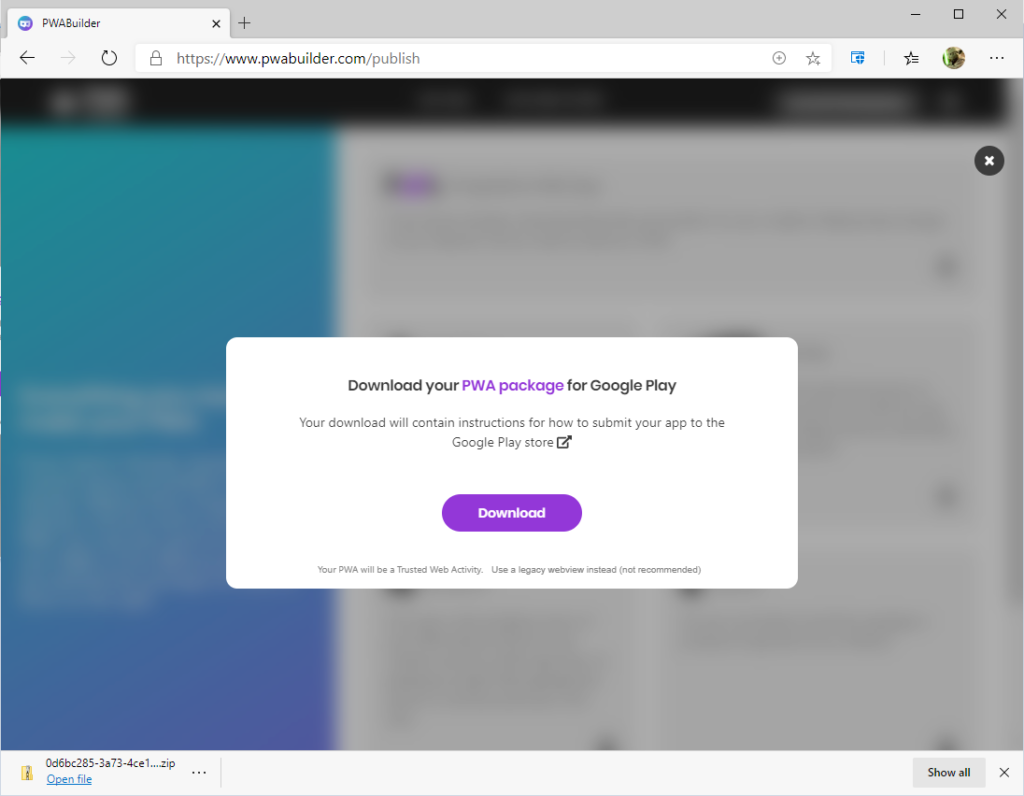 Step 2: test your APK on your Android phone
First, you will have to enable the developer mode on your phone and also allow the installation of apps from unknown sources in your settings.
Then, you have 2 ways to proceed. If you've generated the signed APK from a desktop machine, copy your downloaded signed APK on your Android phone via USB and install it.
But you've got an even better solution than USB… Simply do everything on your Android device via the browser and PWA Builder! Look at this video to see how I'm packaging our own PWA as an APK and install it directly from my phone:
You can even submit this APK to the Store still from your mobile. How cool is that? 😊
Step 3: create the digital assets link and put in on your webserver
As you may have noticed in the previous video, once our generated APK is launched, the PWA is shown with the address bar. Obviously, this is something you'd like to remove in order to have a full app like experience. For that, you need to prove you're the owner of the PWA and associate it to your signed APK.
When you will download our ZIP archive from our site containing the signed APK, you'll find also the next steps in the "Next-steps.md" file pointing to: Creating your asset link file. In a nutshell, you need to:
Download & launch this Android app from the Play Store: Peter's Asset Link Tool
Select your installed signed APK containing your PWA
Generate the Digital Asset Link and copy the content into a file named assetslinks.json under a folder named .well-known at the root of your PWA.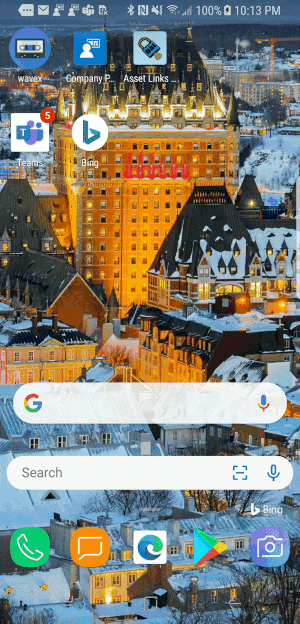 In the case of my PWA Apples Crusher game, it's living here: https://applescrusher.azurewebsites.net/.well-known/assetlinks.json
Step 4: publish to the Play Store
You're ready to publish your APK to the Play Store! For that simply follow the Google documentation: Upload an app.
You will have a couple of screenshots to provide, to answer some questions about your app category, policy and so on. Please note you will have a warning after having uploaded our signed APK. It will say it's not optimized. You can discard this warning; it won't prevent you to publish.
A couple of hours – days later, once your PWA will have been validated by Google, it will be in the Play Store, congrats!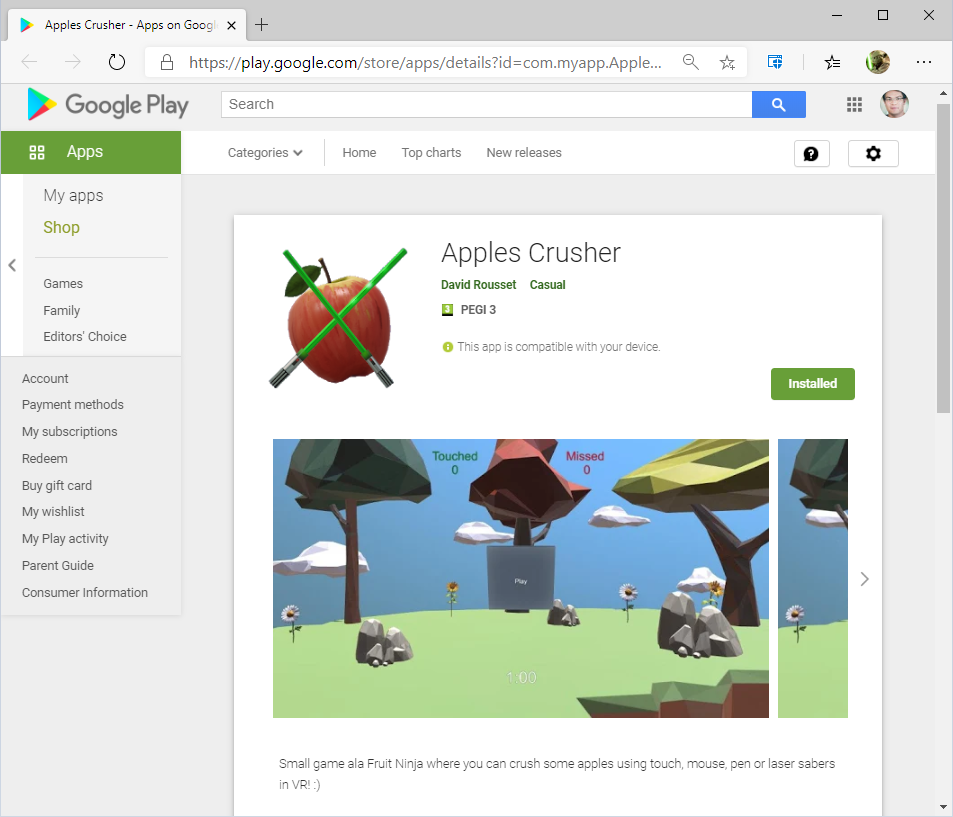 Please reach out either via our official Twitter account or on our github for any feedback.
Feel free to have a look to other platforms we're building for as well as to the various components that could improve your PWA.