A couple of months ago, Facebook has introduced a very cool new feature: Richer 3D Posts on Facebook and New Ways to Share. You can now share 3D content in your news feed. However, creating this 3D content was reserved to 3D experts. Hopefully, using the latest version of Paint 3D on Windows 10, anyone can now create its own content!
In this tutorial, we'll see how to create this great HoloRobot:
In less than 5 minutes!
Assets requirements
To share 3D content on Facebook, you must follow their requirements. The 3D assets must be saved using the .GLB file extension (GLB is the binary version of the glTF 2.0 file format). The GLB file must be under 3MB. Facebook is providing this tool to check if your content is ready to be shared: https://developers.facebook.com/tools/3d/validation which seems to be a fork of this one.
Tutorial 1: creating 3D content using just your awesome design skills
As we're using Paint 3D in this tutorial, you first need to learn how to use this simple but powerful tool. Couple of great short videos to watch:
– Overview of the tool
– Windows 10 Paint 3D: The Magic select tool
– Windows 10 Paint 3D: How to make a penguin
– Windows 10 Paint 3D: Creating the perfect pigeon
– Official videos playlist
You can also read the official documentation associated to Paint 3D.
Once we'll have created your desired 3D content, click on the top left button to expand the menu.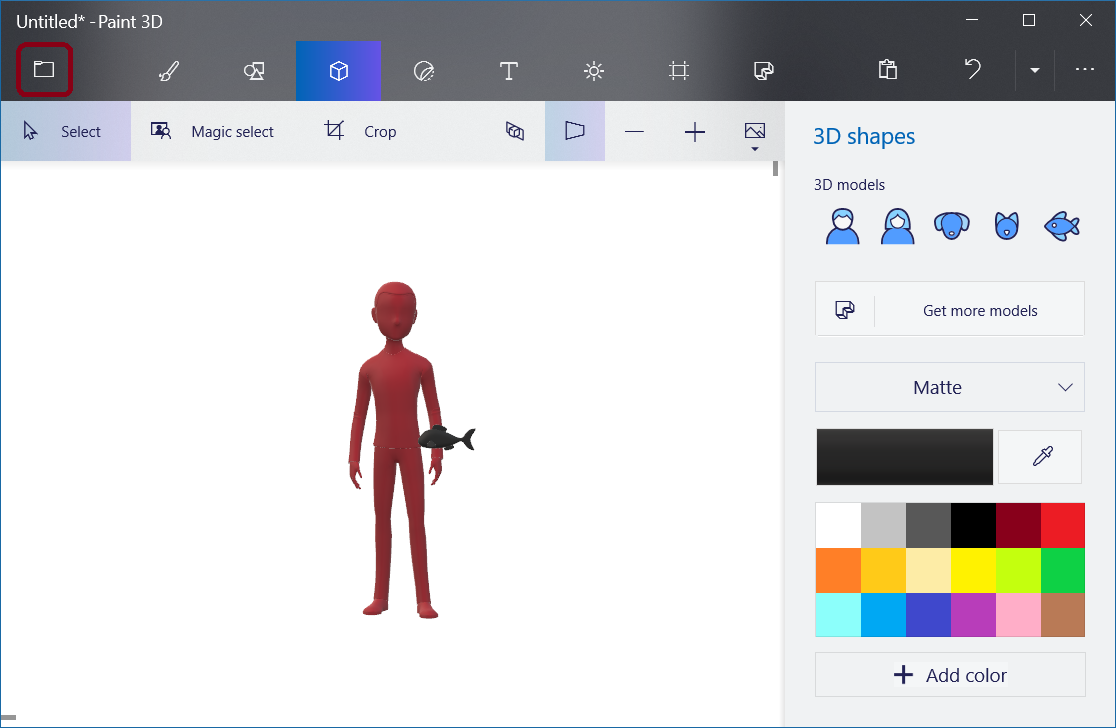 Click on "Export file" then choose "3D – GLB".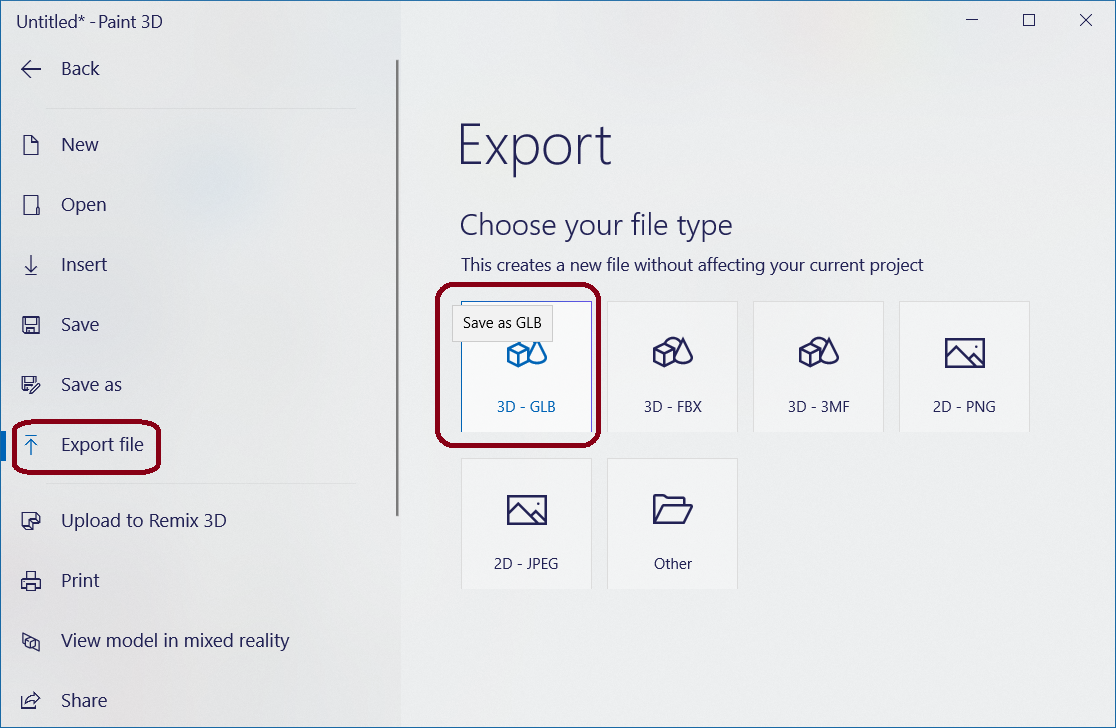 Save it on the disk. Go to your Facebook wall and click to create a new post. Then, you simply need to drag'n'drop your saved .GLB file into the right area.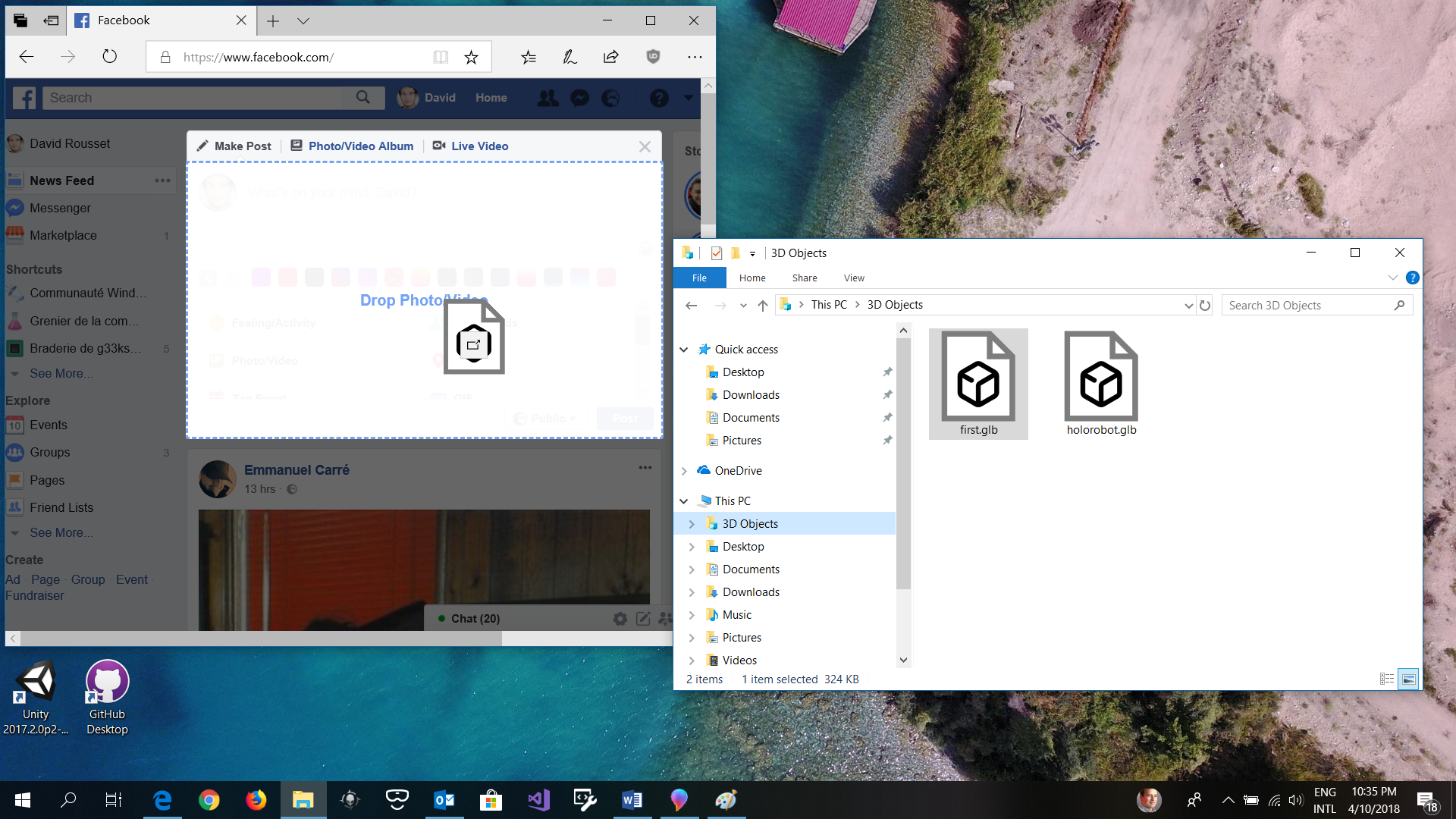 Say what's on your mind and you're done! 🙂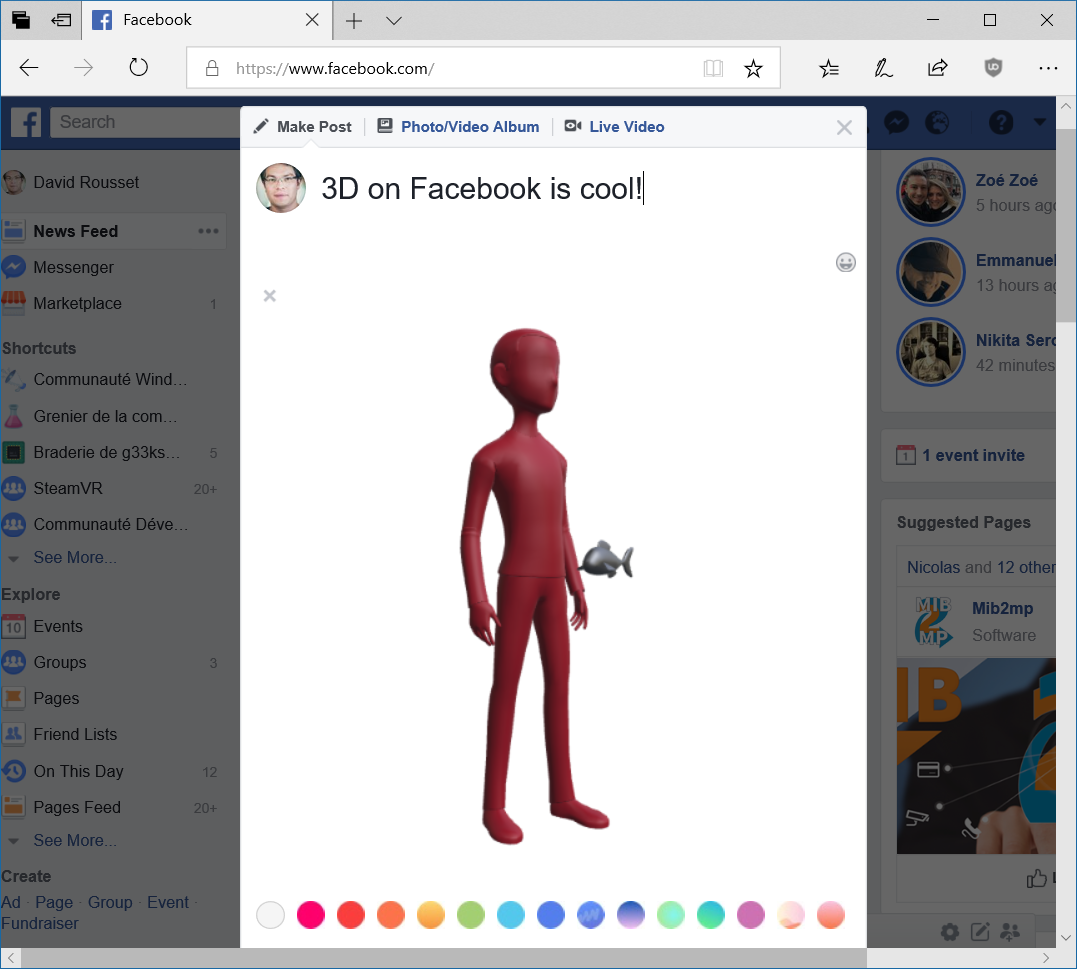 People will be able to see your 3D creation on PC/Mac in any recent browser and on Android and iPhone devices. On smartphones, rotating the device will move the camera around the object and you'll be also able to move using touch to rotate around the Y axis or to pinch to zoom. On desktop, use the mouse or your touch screen if you've got one.
Tutorial 2: creating 3D content using free existing assets
If you're as bad as I am in designing 3D objects, you can use and mix existing content in Paint 3D. There are several great 3D assets platforms available:
– Remix 3D from Microsoft, also natively incorporated in Paint 3D
– Poly from Google, which was mainly designed for AR / VR experiences with low-poly (light) 3D objects.
– Sketchfab
Please keep in mind 2 important points before using some of the assets to share on Facebook:
– The total size of your 3D mix shouldn't be bigger than 3MB
– Pay attention to the copyright / license to re-use or credit the author
For the HoloRobot I've shared at the beginning, I've been using 2 assets from Remix 3D and Poly:
– MS Gundam RX-78-2 on Google Poly
– HoloLens on Remix 3D
You can see how to create it from scratch in this short video:
Thanks for reading. Now, feel free to share your awesome 3D creations you'll be able to build for Facebook in the comments section!